Yorkshire TA train for deployment to war zone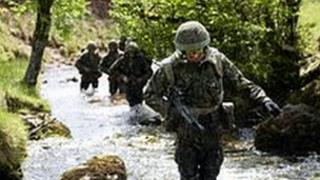 Part-time soldiers from across Yorkshire are going through their final preparations before possible deployment overseas.
Members of 4 Battalion Yorkshire Regiment of the Territorial Army (TA) were leading ordinary lives until recently but are now preparing for a very different workplace - the front line.
Weapons training, first aid, detecting Improvised Explosive Devices and fitness levels have all been on the agenda as they are put through their paces on the Brecon Beacons in Wales.
A final test involves a live firing exercise.
The soldiers are dropped from a Chinook helicopter to establish a position before taking out enemy target, advancing and taking ground.
They can look forward to grenades exploding around them and tracer fire zipping through the air above their heads.
Later this year it is likely the soldiers could be serving in Afghanistan alongside regular army units.
'More respect'
L/Cpl David Cowperthwaite, aged 29, from Beverley has served as a regular and as a TA soldier and says they are starting to get the recognition they deserve.
"I think there is a little bit more respect now than there was, basically because the training gets better and you have to be to that standard to fit in with the regular units when you're going on operations."
Pte Guy Fernie of Guisborough, North Yorkshire, signed up to the TA after finishing his degree.
He said: "I'm trying to work and concentrate as much as I can so I know when I go over there I'll be safe and the lads around me will be safe and switched on.
"The training is hard, it's fast, aggressive. We try to pick it up a level so we know we can prove ourselves."
Rifleman Mike Yates from Halifax has given up teaching to devote more time to the TA.
He said: "Now I've committed for one year to effectively go away and do exactly the same job as those (other) guys but at the end of it, they're going back to some camp somewhere and I'm going back to my relative freedom - do what I want - and then when I'm ready to do another tour I can just put my name down again.
"It's the best of both worlds."
The soldiers will live and work together for at least the next nine months.
And there is already one regimental romance.
Cpl Martin Richardson, from Sheffield, and Pte Harriet Dutton, from Huddersfield, got engaged during the Wales training camp.
"It's caused a lot of excitement, people have been wedding planning on our behalf," said Cpl Richardson,
But before any nuptials there is much more training to come before possible deployment at the end of the year.