Rotherham school campaigns against KFC outlet plans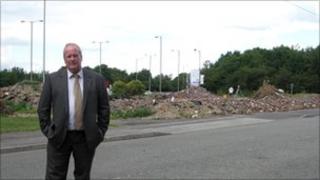 A school in Rotherham has started a campaign to try to stop a fast food chain building a restaurant nearby.
Canklow Woods Primary School has started a petition to stop Kentucky Fried Chicken [KFC] opening a restaurant 40m (43yd) from the main entrance of the school.
The proposal has been described as "bizarre" and "inappropriate" by people objecting to the plans.
KFC said it did not "target children".
Head teacher John Henderson said that the school had worked tirelessly over the past three years to promote healthy eating.
The school also raised concerns about the impact that the restaurant could have on the surrounding community, including increased litter, vermin, light and noise pollution, as well as increased traffic.
Labour councillor Mahroof Hussain told the BBC that he had "legitimate concerns" about the proposal, branding it "inappropriate".
"The temptation would be so great that children would walk past KFC, to and from school and the resistance from the parents may not be there."
KFC said in a statement: "We always try to have a positive impact in the communities where we operate, and have made significant nutritional improvements in recent years."
The consultation period closes on Friday. A planning application will then be submitted to Rotherham Council for consideration in July.