Doncaster smokers urged to stop smoking to protect pets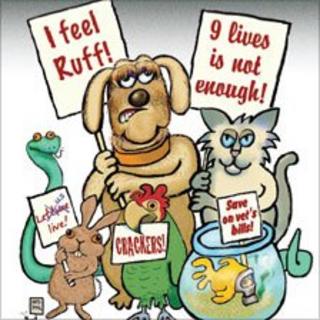 Pet owners in Doncaster are being urged to stop smoking to avoid harming their animals' health.
The Doncaster Stop Smoking Service has targeted vets, pet shops and grooming parlours with posters highlighting the risk of second-hand smoke on animals.
This is the first time that the service has targeted pet owners.
Maryanne Wylde from the Stop Smoking Service said: "We hope the posters will make smokers think about the damage they might be doing to their pets.
"Most people are aware of the damage second-hand smoke can do to humans, but they perhaps do not realise it is also harmful to animals."
Budgies 'susceptible'
The Doncaster Stop Smoking Service, which is run by Rotherham Doncaster and South Humberside NHS Foundation Trust, is hoping that the campaign will steer people towards a healthy lifestyle for themselves and their pets.
The poster features cartoon animals holding up signs which say "I feel ruff" and "Nine lives is not enough".
Kate Lighton, a vet in Wheatley, said: "Budgies are very susceptible as they are unable to get away from the effects of smoke. Cats and dogs can also develop problems with their eyes."
Animals can also suffer breathing problems, heart problems and lung cancer as a result of breathing in smoke.