Barnsley Council commissions study into phone mast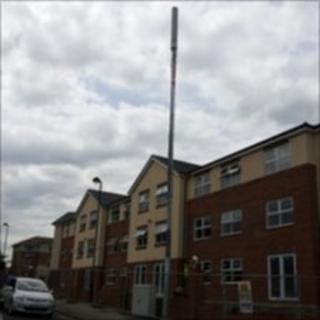 Barnsley Council is to commission an independent assessment into the health impacts of a mobile phone mast in a village.
Residents in Bolton-on Dearne have signed a petition calling for the mast to be moved.
The council turned down Vodafone's application for the mast in St Andrews Square outside a new block of flats.
However, because it missed the deadline to let the company know its decision, permission was granted by default.
More than 1,000 people have signed the petition.
'Very stubborn'
Barnsley Council said it had turned down the application on the grounds that the mast would look out of place in the square and not because of health concerns.
But it added that if Vodafone had appealed against the decision the company would probably have won.
Councillor May Noble, who represents the Dearne South ward, said: "There have been discussions with Vodafone but they have been very stubborn, they have only given us three possible sites and all of those sites are densely populated."
Vodafone said it was working hard to find an alternative site for the mast.
A spokesman for Vodafone added: "All of our base stations comply with international exposure guidelines.
"The purpose of the survey is to demonstrate that exposure will be hundreds of times below the guidelines."