Darfield volunteers restore memorial to mining tragedy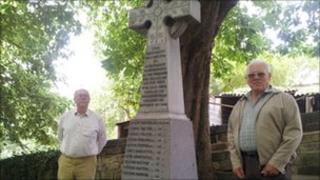 Volunteers have restored a memorial to ten men who died in a mining disaster near Barnsley in 1886.
The men died when the cable on the pit cage they were being brought to the surface in snapped and the cage plummeted down the pit.
The memorial is in the churchyard of Darfield All Saints Church.
John Kendall was involved in the restoration, he said: " It was in a real state, the cross was leaning and the stonework had deteriorated."
The miners who were killed worked at Houghton Main Colliery and most of the victims were from three local families.
The friends of Darfield Church raised more than £4,000 to restore the memorial which was erected by the workmen and friends of the miners who were killed.
Supporters of the campaign included Darfield resident and national poet Ian McMillan and author of the book Black Diamonds, Catherine Bailey.
Martyn Johnson said: "My father and grandfather worked at the pit and I thought we had to do something to make sure this disaster could never be forgotten."
Mr Kendall added: "It was a two-year scheme, we cleaned the memorial and got the lettering repainted and brought new stonework to go around the the grave."
Houghton Main Colliery opened in 1875 and also had a coking plant, where coal was processed to create chemicals. The pit was closed in 1992.
The memorial was officially unveiling during a memorial service in the churchyard on 26 June 2011.