Public sector workers join Sheffield pensions protest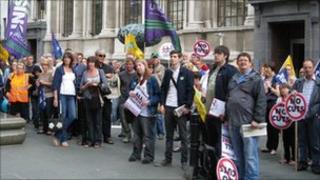 Hundreds of public sector workers took part in a rally in Sheffield to protest about proposed pension cuts
More than half of the schools in South Yorkshire were closed or partially shut as staff took part in national strike action over pensions.
At least 366 of the county's schools were hit and of those 193 were fully closed, council figures showed.
As well as teaching unions, members of the Public and Commercial Services Union (PCS) and Unison stopped work.
Protesters at the rally in Sheffield city centre included education staff and other public sector workers with one supporter saying the "crisis is not our making".
In total, about 20,000 public sector workers in South Yorkshire were involved in the walkout.
Unison members working at Doncaster Council also took action over job cuts and changes to terms and conditions.
Adult social education centres in Thorne, Conisbrough, Mexborough and Hayfield were closed but the council said it did not expect disruption to any other services.
Picket lines
Rob Vincent, the council's chief executive, said: "I am disappointed with the outcome but we will continue to meet with unions and discuss the areas of proposed changes over which they have expressed concern."
A protest march took place in Barker's Pool followed by a rally with speeches from union representatives.
Unite member Martin Mayer, treasurer of Sheffield Trades Council, said: "We are delighted with the outcome.
"We have had positive reactions from the public. People are pleased to see that trade unions are standing up for the people."
Picket lines were also in place at job centres in Maltby and Rotherham.
Latest figures showed 55 schools were closed in Barnsley with 14 partially closed.
In Doncaster 57 schools were closed with 18 partially shut.
In Rotherham 55 schools were closed with a further 41 partially closed.
And in Sheffield, 26 schools were closed with another 98 partially shut.
Prom saved
In Doncaster, the strike had threatened to disrupt the end-of-school prom for pupils at Ridgewood School until parents stepped in to save the day.
Year 11 pupils at the Scawsby school traditionally meet for celebrations at the school during the day before going to the prom at night.
Parents stepped in to save the event after it coincided with the industrial action.
Lynn Hall, a parent and governor at Ridgewood, said a group of parents had come together to organise the prom event "for the sake of the kids".
She said: "We found out at the end of last week that the school leavers' event was cancelled.
"We got our heads together and we said we've got sons affected and friends affected and we could see how gutted they were."
Doncaster's Robin Hood Airport said it had not experienced any major problems.