Chinese table tennis player assists GB team in training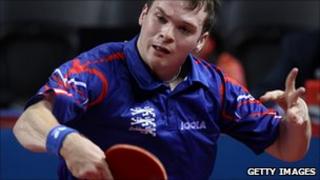 An elite table tennis player has travelled to Sheffield to train with the GB team ahead of the 2012 Olympics.
Hao Peng from China has been a sparring partner to the six-strong GB table tennis for three-months as they train at the city's Institute of Sport.
Sheffield Council who led the project to find players to train with the GB team said it would be a "challenge".
Hao Peng has trained alongside British number one Paul Drinkhall who is part of the GB team.
The GB Table Tennis team had its funding cut by 50% in 2009 by the funding body UK Sport following a medal-less 2008 Olympics.
Following the reduction in funding the team have said they have experienced difficulties in finding the right level of talent to train and compete against.
Richard Yule, English Table Tennis Association chief executive, said: "Hao Peng's visit to Sheffield has been absolutely invaluable in putting the team through their paces and getting them prepared for the standard they will be competing at".
Team GB will field a six-strong table tennis team at the 2012 Olympic Games. Hopefuls for those precious places include Paul Drinkhall, Darius Knight, Liam Pitchford, Joanna Parker, Gavin Evans and Kelly Sibley.
Hao Peng's stay will end later this month, however, there are plans for further visits from other table tennis players based in China later this year, in October.