Doncaster park-and-ride schemes bid to entice drivers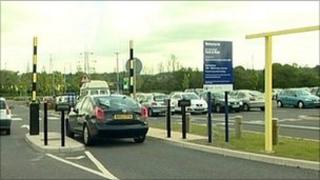 A multi-million-pound park-and-ride scheme that has not proved popular among Doncaster drivers is holding a free-parking promotion.
The two areas, in Scawthorpe and Rossington, were opened in 2008, after the government invested £16.2m.
South Yorkshire Passenger Transport Executive that manages the sites admitted it was "behind its targets".
Figures show that in June, a daily average of 166 cars used the sites, which can take 750 vehicles.
The Mayor of Doncaster, Peter Davies, branded the service a "white elephant" last month and has written to the government asking them to close the scheme.
David Young, of South Yorkshire Passenger Transport Executive, said: "I think the park and ride scheme is working in Doncaster and we are seeing considerable growth month-on-month and year-and-year.
"It is important that we continue to promote park and ride to those who shop, work and enjoy the centre of Doncaster."
Mr Young added that he would like to see the park-and-ride system reach 75% of capacity, over the next five years.
As part of the one-week campaign to entice new passengers the transport executive has been giving away vouchers in the Doncaster Free Press newspaper, for a free park-and-ride pass, as well as offering drivers free refreshments.