Horse racing contributes £230m to Yorkshire economy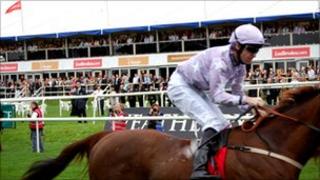 Horse racing in Yorkshire is worth £230m annually to the local economy.
A report by Sheffield Hallam University analysed nine racecourses across the county, including Doncaster, Beverley and York.
Collectively the courses stage 175 race days per year which has led to growth.
The study carried out by the Centre for Regional Economic and Social Research said the industry provided the equivalent of 2,300 full time jobs in the county.
It is estimated around £30m was attributed by off-course activities by race-goers, including food and drink and hotel stays.
The tourism chief executive for Welcome to Yorkshire, Gary Verity said horse racing is part of the lifeblood of Yorkshire.
"We are the home of horse racing in the UK and that is why we are working closely with 'Go Racing in Yorkshire' and all the racecourses to ensure that when people think about going racing for a day or a weekend, they think about coming to Yorkshire."
The research said more than 100 licensed trainers looked after 3,288 horses in training in Yorkshire, estimating more than 5,000 individuals in Yorkshire are involved in ownership of a racehorse in training in the county.