Plans for Doncaster's former Earth Centre approved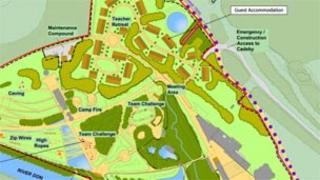 Plans to turn the former Earth Centre in Doncaster into a multi-million pound children's activity centre have been given the go-ahead.
Doncaster Council approved the plans for Kingswood Learning to create the outdoor education centre.
The Earth Centre, an environmental visitor attraction, closed in 2004 after failing to attract enough people.
Kingswood Learning said the new centre could create up to 200 full time and temporary jobs.
The company agreed to buy the site from the council in March.
It is expected that the final sale will be completed by the end of August.
Linda Addy, Kingswood's managing director, said the results of a public consultation had been "hugely positive".
The plans include an 11,000 sq ft [1021 sq m] indoor activity centre and sports hall, computer classrooms, meeting rooms, and outdoor and indoor amphitheatres.
Councillor Chris McGuinness, chairman of the planning committee, said: "Although the site is located within green belt, the committee considered that the development is acceptable in terms of its impact upon the area, ecology, highways, flood risk and sustainability."
The Earth Centre originally opened in 1999 on the site of a former colliery at Denaby at a cost of £55m.