Castle Market traders given 30 per cent rent discount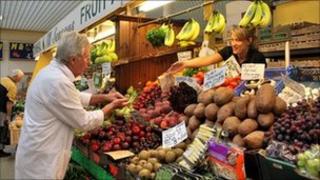 Market traders in Sheffield have been given a 30 per cent rent discount after a dispute over increases.
Traders at Castle Market submitted a petition to the formerly Liberal Democrat-run council in March after it announced plans to remove a discount.
Labour, which gained control of the council in May, reviewed the proposal and offered traders a new settlement.
Over 80 traders from the city centre will now receive a backdated discount from April.
The Liberal Democrats had announced plans to remove a 40 per cent discount. After much opposition including a 14,000-name petition, the Labour administration has announced it will give traders the discount for a two-year period or until a new £18m market is completed.
On average a stall at Castle Market would pay a monthly rental fee of about £1,750 without discount; this is now reduced to about £1,350.
'Traders in trouble'
The new market is due to be built on The Moor before 2013. It will hold 200 market stalls.
Mick Cull, Secretary of the Market Traders Association at Castle Market, said traders were still struggling.
He said: "We hope and pray that we can continue. I know that there are quite a few traders already in trouble.
"We hope the 30 per cent will certainly see people through to a new market."
Labour councillor Bryan Lodge said: "If we hadn't taken action, traders would have gone out of business."
The council has previously said that its long-term plan is to demolish Castle Market and redevelop the Castlegate area, creating parkland around the Castle's remains to the River Don.