Two Sheffield schools set to merge and become parent-led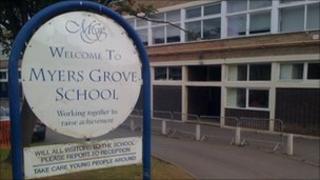 Two schools set to merge and become the first parent-led school in South Yorkshire have had their final day.
Myers Grove and Wisewood secondary schools will become Forge Valley Community school in September.
Sheffield City Council said in 2007 it was closing the schools and replacing them with one built under the Building Schools for the Future Programme.
Myers Grove School's headteacher, Linda Waite, said: "There has been some sadness, but now there is excitement."
When plans to merge the schools were proposed, some parents staged protests and submitted a petition urging education chiefs to change their minds.
But the plans were narrowly approved by the council.
Government policy meant the running of a new school had to be put out to competition and a group of parents, governors and staff from the two schools were granted permission to run the new school outside of local authority control.
Mrs Waite said: "We have got a beautiful new building and we have been doing lots of things already to bring the two schools together and we do feel as one now."
The two secondary schools have been working together since the merger was announced with educational visits and sports events involving both sets of students.
Both schools have had a series of events to mark the closures.
Myers Grove produced a book celebrating the 50-year history of the school and Wisewood had a farewell fun day and exhibition.
Forge Valley Community School will be a specialist sports college.