KFC plan turned down by council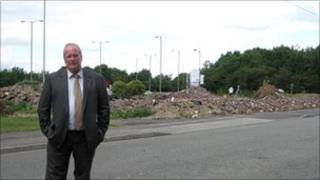 Plans to build a fast food outlet near a primary school in Rotherham have been turned down by the council.
Canklow Woods Primary School started a petition to stop Kentucky Fried Chicken [KFC] opening a restaurant 40m (131ft) from the main entrance of the school.
David Pickering, chairman of Rotherham council's planning regulatory board, said the location was "inappropriate".
KFC said in a statement it was "considering its options".
The school submitted a petition which held more than 80 signatures against the proposals.
Mr Pickering said the board made its decision because of the likely increase in traffic, noise and disturbance.
Labour councillor Mahroof Hussain, who had campaigned against the plans, said the decision was "excellent news."
"We put a good campaign together. We're not against fast food it was the location of this establishment we had an issue with."
Head teacher John Henderson told the BBC during the campaign that the school had worked tirelessly over the past three years to promote healthy eating.
A spokesman on behalf of the KFC franchise said: "We know there is demand for KFC in the area and there will be a lot of disappointed Rotherham residents.
"We believe we can be a positive addition to any community including creating around 30 jobs and we are considering our options before we decide on our next steps."