Sheffield 'student village' plans announced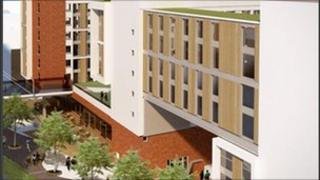 Developers have announced plans for a £52m "student village" in Sheffield.
If they are approved by the council, the Manor Mill site off Ecclesall Road in the west of the city would accommodate 880 students.
The developers, Manor Properties, believe the project would generate 130 long-term jobs.
Robert Lane, director of the firm, said: "Student accommodation of the best quality in the right location will always let."
Mr Lane said: "Lots of student accommodation was built in Sheffield over the last few years, but often in the wrong location."
In addition to the "high quality" en-suite bedrooms, the five-block complex would feature three cafe bars and restaurants.
Manor Properties has been in discussion with Sheffield City Council planners over the development for the last 18 months, and said it expects the application to be approved by the end of September.
If it does win the council's approval, the development is scheduled for completion at the start of the autumn term in 2013.
It would house students from both the University of Sheffield and Sheffield Hallam.