Ex-fire station blaze in Brampton forces home evacuations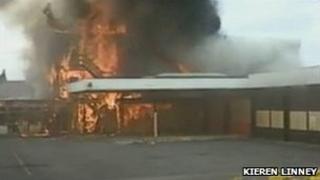 Six homes were evacuated after a blaze broke out at a disused fire station in South Yorkshire.
Emergency crews were called to the building on Knollbeck Lane, Brampton near Rotherham at 14:15 BST.
Seven fire engines and about 30 firefighters were sent to deal with the incident.
South Yorkshire Fire and Rescue have advised other nearby residents to stay inside with doors and windows shut as a precaution.
The site was last used by the fire service in June 2010, and it was sold to developers in May 2011.
The cause of the fire is under investigation.