Sharrow Pie Experiment in Sheffield to close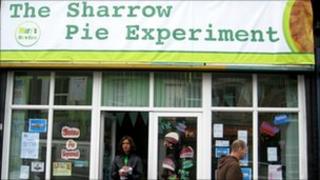 A project in Sheffield which used apple pie to bring a community closer together has announced it will close.
The project, paid for by St Mary's Church for six months, has said it had run out of money.
It was launched in April and hundreds of people in the city had visited the former shop on London Road.
Supervisor Amanda Ganley said the "social experiment" had been "incredibly successful" and it was "unfortunate" that it had to close.
The idea behind the project was to encourage people to "think", "chat" and be "inspired" over a free slice of pie and a drink.
The Sharrow Pie Experiment offered various events from tai-chi to film nights.
The Sheffield project is based on an idea which was originally developed in Alabama called The Pie Lab.
Ms Ganley said: "We initially hoped that we would get extra funding so once we'd come to the first six months so we'd be able to carry on after that but at the moment that's not going to happen."
Although the shop on London Road will close on 31 July, the group behind the project are hoping to continue the social element of the project online via its Facebook page.