Penistone Market deemed too windy by traders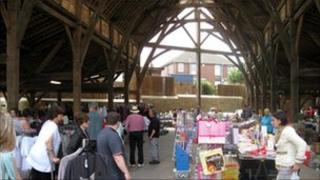 An award-winning market in Barnsley has been criticised by traders.
A makeover of Penistone Market which includes a purpose-built oak frame to house outdoor traders was completed in June.
However traders who spoke to the BBC said the market felt like a "wind tunnel" and was "unsuitable".
Anne Gosse from Barnsley Council said the authority was aware of "problems with the wind" and was looking at ways to "rectify the problem".
Barnsley Council claims the market is the largest oak frame in the country, standing 13m high and 35m long.
Earlier this year the building was the winner of a construction award for the best community project.
But despite this accolade, some market traders say they are unhappy with the conditions inside.
'Complex process'
One told the BBC: "The idea behind the building was to accommodate a market, but the market has taken second place to the building.
"Everybody says what a marvellous building it is. The architecture award doesn't mean much to the people who work on this market."
The council had looked at installing windows when the building was commissioned, but due to the movement of the oak structure this was deemed unsuitable.
Dr Gosse, the council's executive director of development, environment and culture, said it had been a "complex process".
"Wind experts have had a look at this and we've got some proposals which we think will address the wind problems.
"We felt it was better to do it afterwards simply because of all the issues."
The council estimates the work to solve the wind tunnel issue will start in the autumn and be completed by October or November.