Segway motor scooter rider loses legal appeal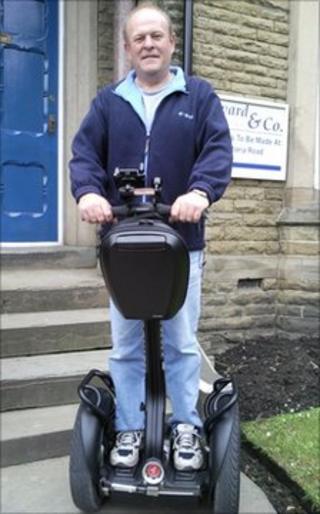 A man convicted of riding a Segway motor scooter on a pavement has lost an appeal against the decision.
Philip Coates, 51, became the first person to be successfully prosecuted for riding the motorised scooter on a pavement.
The earlier decision by Barnsley Magistrates' Court was upheld by the High Court in Leeds.
The court agreed that a Segway is properly defined as a motor vehicle, which cannot be used on the pavement.
Mr Coates, of Park Avenue, Cudworth, bought his £5,000 Segway, which has a top speed of 12.5mph, after trying one out during a holiday in Florida.
It was used by him to travel from his home to Barnsley.
He was charged with riding a motor vehicle on the pavement under the Highways Act 1865.
The magistrates' court fined him £75 and he was ordered to pay £250 in costs.
Test case
The High Court was asked to decide if the magistrates' court had applied the law correctly.
Lord Justice Munby said: "In my judgement, a Segway falls within the definition of a motor vehicle.
"It follows that in my judgement the appellant was properly convicted."
The prosecution of Mr Coates was seen as a test case by users of the two-wheeled transporters.
It has attracted nationwide interest from campaigners calling for wider Segway use.
Campaigners say they are effectively barred from using the machines on pavements if they are classed as motor vehicles, but cannot drive them on roads because they do not pass all the requirements of a motor vehicle.
Segways are legal for use on pavements in more than 30 American states and in Portugal, Sweden, the Czech Republic and in German cities.