New £90,000 cycle speedway track opens in Sheffield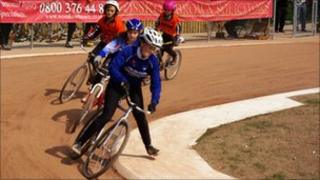 A new cycle speedway track has opened in Sheffield at Graves Leisure Centre.
The 70m track cost £90,000 to build and will be the home to Sheffield Stars - the country's largest track speedway club with about 200 members.
Cycle speedway involves cyclists taking part in races that last about 40 seconds, often resulting in physical contact.
Martin Gamble, secretary of the Sheffield Stars, said: "The track will enable us to extend our activities."
£50,000 of funding for the new track came from a grant from Biffaward, a fund which helps local communities and British cycling. The rest of the money came from the club's own fundraising.
Sheffield Stars compete in the top premier league and are one of the top four teams in the country.
It is also home to the women's 2011 World Cup gold and silver medallists.
Cycle Speedway has taken place in Sheffield since 1946 when the first club - called the "Flying Tigers" -were formed.
The original track was built in 1982 by the local authority but had recently fallen into a bad state of repair with sharp edges and slippery banking.
The club is aiming to attract new members with the opening of the new track.
Mr Gamble said: "Last year we attracted over 20 local schools to take part in our activities and schools championship competitions.
"The new facility is now one of the best in the north of England."