Reward after cable thefts cut off phone lines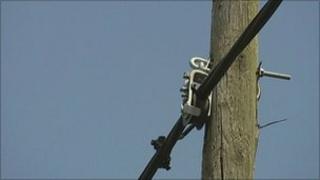 Cash rewards are being offered in an attempt to catch cable thieves who are regularly disrupting services in South Yorkshire and north Lincolnshire.
Telecoms firm BT said Doncaster, where 60 incidents had been reported since April, was a "hotspot" for the crimes.
A rise in thefts has also repeatedly left some rural north Lincolnshire communities without phone services.
BT and the Crimestoppers charity are offering £2,000 rewards for information that leads to a conviction.
Recent increases in cable thefts are being blamed on the rising price of copper as demand for metals increases in the economies of China and India.
Dave Hunter, Crimestoppers' regional manager, said cable theft not only caused inconvenience to the local community, it was also "dangerous" as it could leave the elderly and vulnerable people without communications, and possibly unable to dial 999.
Bernie Auguste, head of security for BT Openreach, which maintains the firm's network, said: "We are working very hard to prevent attacks and to get those impacted connected again as soon as possible.
"By working closely with the police, installing extra protection and increasing vigilance in the area we are reducing the number of successful attacks.
"However we really need the public's help in identifying the perpetrators of this crime.
"We are asking for people to be particularly vigilant for unmarked vehicles and individuals that appear to be working on or near man hole covers or telephone poles, particularly at irregular hours."