Hewlett Packard might 'offshore' DWP jobs in Sheffield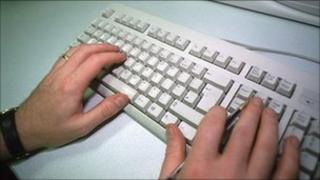 IT workers in Sheffield have voted for industrial action over plans to "offshore" work to India which could lead to more than 200 jobs being axed.
Staff at the Napier Street site are working on the Department for Work and Pensions (DWP) contract alongside people in Newcastle and Lytham.
The employees maintain computerised record systems at DWP offices.
Hewlett Packard said compulsory losses would be avoided. The DWP said plans would have to get ministerial approval.
About 50 staff would be affected in Sheffield with the rest in Newcastle and Lytham.
The Public and Commercial Services Union (PCS) said the plans raised concerns about the security implications of sending data overseas.
Representatives said the data collected by staff included "very personal and valuable information about people's benefits".
Consultation started
Mark Serwotka, general secretary for PCS, said: "Not only could more than 200 jobs be lost if this plan gets the nod the from government, but the security implications of sending millions of people's data overseas are massive."
The union said the industrial action was to involve non-co-operation with the transfer.
Hewlett Packard [HP] said: "We have begun consultation on the proposed transfer of some roles to our operations in India effective in 2012, subject to final client approval.
"This relates to work at a small number of sites in the UK.
"We are working to redeploy staff affected into other roles within HP and are optimistic that we can avoid compulsory redundancies."
A DWP spokesperson said: "Any plans by HP to move departmental work offshore would have to be agreed by ministers.
"Our contract is explicit that suppliers may not transfer or store data overseas without specific agreement from the department."