Sheffield businesses unhappy with flood defence plans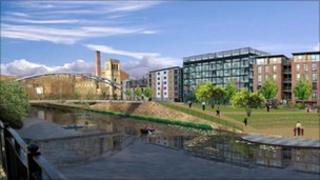 Businesses in an area of Sheffield which suffered from flooding in 2007 have said they are unhappy with flood defence plans.
Hundreds of properties were flooded when the River Don burst its banks.
Sheffield Council and the Environment Agency said large defences in the Wicker area could increase the flood risk in other parts of the city.
However locals say that the original plans have been "scaled down" and now fear insurance premiums may soar.
Raymond Walton, who runs a business and enterprise training centre which was flooded in 2007, said: "We need an explanation. We're still struggling and things like the flood defence can only help."
'All about money'
A spokesperson for the council, which is funding the £600,000 phase two of the project, said the height of the flood defence wall had to be scaled down to protect other areas of the city after the Environment Agency carried out tests.
The agency said it looked at the pattern of water flow in the River Don which showed that if the river was to flood, other areas of Sheffield would feel the impact of the water flow further down if the wall remained at a high level.
Ben Hughes a flood risk manager for the Environment Agency said: "It would've been unfair to protect one area of Sheffield at the expense of another."
But Stephen Horton, who owns a business on the Wicker said "It's all about the money."
"I have a concern if insurance companies are expecting flood defences to stop this happening they will be reasonable, but we could become uninsurable or see insurance premiums go through the roof."
Sheffield City Council said in a statement that it was planning to make a start on the site over the next 12 months.
The council added: "We will continue to keep the traders and others who live and work in the area up to speed on where we are with our plans and want to work with them so we protect them and keep the riverside an area for people to enjoy."