Journalists on strike disappointed with negotiations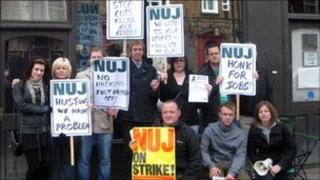 Journalists working for five newspapers in Yorkshire who have been on indefinite strike for three weeks say they are disappointed with the way negotiations are going.
Members of the National Union of Journalists (NUJ) are striking over cuts proposed by Johnston Press.
The NUJ said it had invited the company to enter mediation talks with Acas but had not received a response.
Nobody at Johnston Press was available to comment.
The Johnston Press newspapers affected by the strike are the Doncaster Free Press, South Yorkshire Times, Epworth Bells, Selby Times and Goole Courier.
Staff from the newspapers have been on strike since 15 July after 90% of their NUJ members voted for the action.
The NUJ said that under the proposed plans 18 jobs would be cut and editors across papers owned by the group would be merged.
'Strike virgins'
Members of the union have said that four votes of no confidence in the editor-in-chief of the South Yorkshire Times, Graeme Huston, have been passed.
The NUJ said it remained committed to strike action until the dispute was resolved.
An NUJ member who works on the Epworth Belles newspaper told the BBC: "A lot of people are strike virgins, we've never been on a picket line before.
"But we knew what we were getting into when we ticked 'yes'."
NUJ member Alex Vessey said the strike had "captured the imaginations of the readers" in the area.
"We've had support from all over the country. We're making big progress.
"The money is pouring into us. Whilst the money is being donated we can continue to strike."