Westlife gig date criticised by Doncaster Rovers boss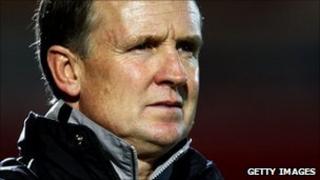 Doncaster Rovers manager Sean O'Driscoll has criticised a decision to allow Westlife to play on the club's ground days before the season starts.
Up to 15,000 fans flocked to the Keepmoat Stadium to watch the chart-topping act last Sunday.
But O'Driscoll said the stadium managers were "vindictive" for hosting the concert so close to the season's kick off.
The stadium management said they had not received a complaint from the club.
O'Driscoll said: "I would've loved a home fixture [at the start of the season] because we've never had one in the time we've been in the Championship. We had to give way to Westlife unfortunately.
"It's a source of frustration."
'Job on hands'
He said the relationship between the football club and the stadium management company "had reached an all time low", adding that it was a "shame."
O'Driscoll added the groundsman "had a job on his hands" to prepare the pitch.
He said: "I understand the financial implications of trying to run a stadium.
"Nobody has a concert five days before a championship season. It smacks of being vindictive.
"We will be the only football league team not to have even played on our pitch before the start of the season - that can't be right."
Doncaster Rovers had requested through the Football League to play its first game of the season at the stadium.
However, the club claims it had to withdraw its request after being told by the SMC that it would not be able to play its first game of the season on 6 August as the pitch would need time to be able to recover.
Rovers relocated to the Keepmoat Stadium in 2007 after moving from its original home at Belle Vue.
The stadium is owned by Doncaster Council and is also used by the town's rugby league team and the women's football team, The Doncaster Belles.
Special covering
Managers of the stadium have stressed the venue is a community facility and is not just available for sports.
They hailed the Westlife concert as a massive economic boost to Doncaster. Other acts, such as Elton John, Bryan Adams and McFly have also performed at the Keepmoat.
The pitch was protected with a special covering for the performance.
Julie Nichol, manager at the Keepmoat Stadium, said in a statement: "We have not received a complaint from the Doncaster Rovers or their manager regarding the SMC hosting a concert.
"Doncaster Rovers rent the pitch at the Keepmoat Stadium for 24 league games and up to four cup matches per year.
"If any of our tenants have any issues they would like to speak to us about we would be happy to talk to them rather than playing out a discussion unnecessarily through the media."
Rovers' first home game fixture will take place on 9 August when they face Tranmere Rovers.