£750k payouts agreed for Rotherham hip surgeon 'errors'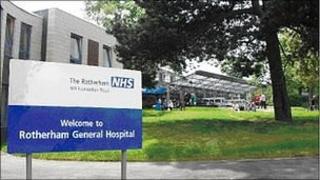 Five hospital patients have settled claims worth more than £750,000 after they suffered serious complications following surgery by the same surgeon.
The claims relate to surgery carried out by Mr Manjit Bhamra, a consultant orthopaedic surgeon at Rotherham General Hospital between 2005 and 2007.
One man suffered from a fractured pelvis, his lawyers said.
The hospital said it referred the surgeon to the General Medical Council. Mr Bhamra declined to comment.
One of the claimants, Wayne Pickering, 59, from Cantley in Doncaster, underwent hip revision surgery in February 2006.
During the operation it is alleged Mr Bhamra fractured Mr Pickering's pelvis.
The fracture was not repaired and Mr Pickering was left with an unstable and painful hip, law firm Irwin Mitchell said.
'In agony'
A repair operation was only done after an interim payment was secured in May 2009.
Mr Pickering said: "I went into hospital expecting to have my hip revised and come out the other side in better shape. Instead I found myself in agony and unable to work because I couldn't even walk properly."
In other cases, the law firm alleged Mr Bhamra used the wrong hip prosthesis on a 23-year-old woman, inserting it incorrectly, and left a 51-year-old woman with a "significant" discrepancy between the length of her legs.
Despite undergoing corrective surgery, both women are said to have been left with restricted mobility.
The two other patients who received settlements have asked for details of their cases to remain private.
Hospital investigation
Walid Al-Wali, chief medical officer for The Rotherham NHS Foundation Trust, confirmed Mr Bhamra was employed as a full-time orthopaedic surgeon specialising in hip replacements until September 2007.
"Subsequent to this we became aware of concerns regarding his practice and following investigations we did refer Mr Bhamra to the General Medical Council (GMC).
"We understand the GMC investigation is still on-going and therefore we cannot make any further comment at this stage.
"Whilst we would expect any issues associated with Mr Bhamra's treatment to have emerged well before now, any patient who has a concern should contact their doctor for clinical advice."
Mr Bhamra said he could not comment on the cases due to patient confidentiality.