Rotherham could get Chinese theme park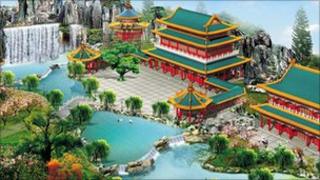 A £100m Chinese theme park including oriental lakes and gardens could be built in Rotherham, South Yorkshire.
Visions of China has been chosen as the council's preferred developer for the site near Rother Valley Country Park.
The plans for the 120-acre site on brownfield land include having "distinct Chinese architecture".
The site had been planned to hold Europe's largest undercover leisure complex before developers withdrew earlier this year.
Rotherham Council's cabinet announced that it has selected the leisure organisation China Vision Ltd and regeneration specialist MCD Developments as the first choice for the development of the site.
Developers said the plans would also include shops, a theatre, a spa and hotel.
It is thought if the planning application is successful, the development would take about 18 to 24 months to build, and create about 380 jobs.
The brownfield site is the former Pit House West site, which has been owned by Rotherham Council since 2001.
'Enormous appeal'
Labour leader for Rotherham Council, Roger Stone said: "We will be working hard with the partnership to make it happen.
"This site has great potential and this proposal offers an exciting, unique and imaginative new attraction which meets our local regeneration aspiration."
Peter Moore, chief executive of Visions of China, described the project as "fascinating."
He said: "I could see a project that will have enormous appeal for the British tourism audience.
"The fascination that Western audiences have with China is an intrigue."
Visions of China has said that it will submit a planning application to the council later this year.