Thomas Gower death: Amateur boxer guilty of murder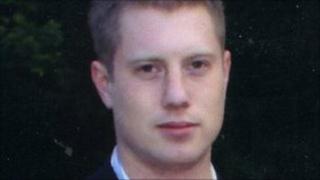 An amateur boxer has been found guilty of murdering a father of two who was attacked outside a Sheffield bar.
Thomas Gower, 26, of Gleadless Valley, was assaulted outside the Alibi bar in Trippet Lane on 18 December and died in hospital on Boxing Day.
Bradley Hinkler, 20, of Kilvington Road, Woodthorpe, Sheffield, was convicted of murder at the city's crown court on Tuesday.
Police said Hinkler had shown no remorse for his crime.
He was also convicted of committing grievous bodily harm against another man Richard Howard.
Hinkler is due to be sentenced later this month.
Police said Hinkler became involved in a disturbance outside the bar and attacked Mr Howard.
Det Supt Andy Thompson said: "Hinkler then chased and punched Thomas Gower, for no apparent reason, and knocked him to the ground, leaving him lying in the street unconscious, before returning to his friends smirking."
Mr Thompson added: "Thomas Gower was a hard-working family man of good character, the father to two young boys. Clearly, his family are devastated by their loss.
"Hinkler has shown no remorse whatsoever for his crime."
Mr Gower's parents Keith and Susan said: "No sentence, no matter how long, will ever bring Thomas back to us.
"It is a loss that family and friends will have to learn to live with for the rest of our lives."