Johnston Press strike: South Yorkshire Times editor 'made redundant'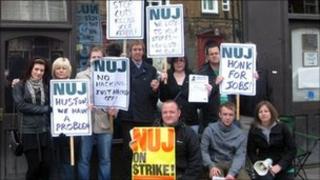 The editor of the South Yorkshire Times newspaper has been told that his post has been made redundant, the National Union of Journalists (NUJ) has said.
Editor Jim Oldfield is on indefinite strike along with other journalists following proposals to cut 18 jobs in total at five Yorkshire newspapers.
Johnston Press, which owns the papers, has also said it wants to merge the editor roles.
Nobody at Johnston Press was available to comment on Thursday.
The Johnston Press newspapers affected by industrial action include the Doncaster Free Press, South Yorkshire Times, Epworth Bells, Selby Times and Goole Courier.
The strike started on 15 July after 90% of NUJ members at the papers voted for the action.
Since the strike started, a protest march has been held in the centre of Doncaster, which was supported by various unions and members.
'Upset and distressed'
The NUJ said it had invited the company to enter mediation talks with Acas but had not received a response.
Chris Morley, from the NUJ, said: "All of our members are upset and distressed but ultimately his [Jim Oldfield's] job was one part of the rotten proposal which the company has sought to implement."
The NUJ representative said the picket line remained "solid" and that members were committed to carry on with the indefinite strike until there was a "suitable resolution".
The NUJ said Mr Oldfield would be "considering his options", which could include appealing against the decision.