Labour MP, Paul Blomfield, recovering after tumour operation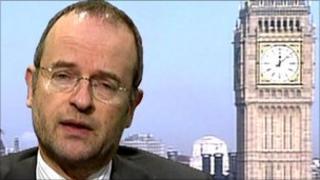 The Labour MP Paul Blomfield is recovering in hospital after undergoing surgery to remove a brain tumour.
Mr Blomfield, who has been Sheffield Central MP since May 2010 under-went surgery at the Royal Hallamshire Hospital in his home constituency on Thursday.
A benign brain tumour was discovered earlier this week after a routine examination by doctors.
Mr Blomfield's wife Linda McAvan said he was making a "good recovery".
The MP, who is aged 57, has thanked medical staff. Ms McAvan, who is Labour MEP for Yorkshire and the Humber, said: "Paul and I would like to say a huge thank you to all the staff at the Royal Hallamshire Hospital and in particular to the surgical and nursing teams who have been amazing."