Sheffield Council plans increased fees for elderly care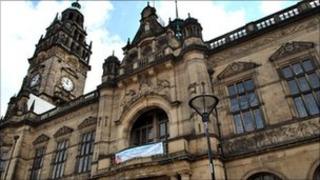 Hundreds of pensioners in Sheffield could see the cost of their care increase three-fold.
Sheffield Council has recommended that maximum weekly contributions to home help care in the city rise from £114.69 to £350 a week, a 205% increase.
Labour Councillor Mary Lea said: "It's regrettable and I'm really sorry that this is happening to some people."
More than 200 people with savings of more than £23,250 could see the maximum increase and have to pay more.
The report says support costs could rise from 70% to 100% depending on an individual's assets and savings.
An additional 1,000 could also be affected by the changes, but to what extent is unknown and will depend on individual circumstances. Two thirds of people would not see any change at all.
The non-residential care, which more than 5,000 people in the city use, includes help to enable people to stay in their homes and remain independent and assistance with domestic and everyday duties.
Labour, which took control of Sheffield Council in May, said the budget savings were originally put forward by the Liberal Democrat administration in March when saving measures were introduced.
Ms Lea said: "This year we've had to cut £15m from the social services budget.
"If we reversed the decision we would have had to make changes and reductions to front-line services."
The report states that the majority of people who use the social care service are aged over 60.
Proposal 'appalling'
Jackie Milner, from the Sheffield Pensioners Action Group, said the proposal was "appalling".
Ms Milner suggested the council look at "alternative" plans which could include "small amounts of money being taken from everybody instead of continually hitting the old and the vulnerable".
The council ran a consultation earlier this year where it asked 5,401 existing customers who receive non-residential support about potential increases.
In the questionnaire, 61% of the people who replied to the survey said they did not want to see an increase in maximum contributions.
Shaffaq Mohammed, leader of the Liberal Democrat Group in Sheffield, said the council had ignored the results of the consultation, adding that Labour needed to "take responsibility" for its decisions.
The council report states that if the recommendation was implemented the changes would result in an additional income over the course of one year of £2.19m to Sheffield Council.
The report, which is due to be discussed in a cabinet meeting on 24 August, outlines plans to implement the change in weekly contributions for adults in non-residential care from 24 October, if the plans are approved.