Man to drive to 1,500 miles in van run on cooking oil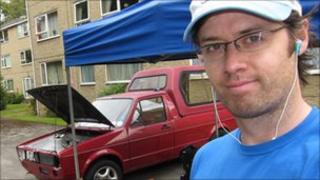 A man from Sheffield is driving his van which runs on cooking oil 1,500 miles to Germany to raise money for charity.
Jay McGreneghan is hoping to raise £5,000 for the Stroke Association during the trip which will also see him running in the Wolfsburg marathon.
He is making the the trip in a rare VW Caddy MK1 which has been converted to run on cooking oil.
Mr McGreneghan said: "It is going to be a challenge driving and also taking part in the marathon."
The van will use 200 litres of oil to make the journey. People have offered to donate used cooking oil for the trip, which will be collected along the way.
Mr McGreneghan said: "I'm pretty sure the cars following behind me will think they are in a chip shop."
VW fanatic
During the trip Mr McGreneghan, who is a VW fanatic, will visit the car manufacturer's factory and museum in Wolfsburg and run his first-ever marathon.
He added: "I've spent the last year meticulously getting my Caddy ready, which is very rare as it is one of only 50 produced."
Mr McGreneghan's father suffered a stroke seven years ago which left him severely disabled and only able to communicate through eye movements and facial expressions.
Mr McGreneghan decided to raise money for the Stroke Association to thank the organisation for the support it had given to his family.
He is setting off on the trip on 1 September.