Cancer inspires Yorkshire's first tap dance company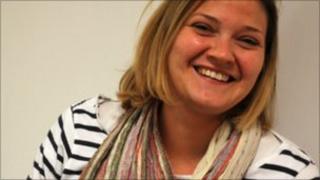 A dancer who discovered she had cancer at the age of just 31 has set up what is believed to be Yorkshire's first professional touring tap dance company.
Katie Pearson, from Barnsley, who learnt to dance from childhood, said being told she had bowel cancer had given her "a kick up the bum".
She said the news inspired her to change her life and the Northern Tap Company was born.
The former contemporary dancer was diagnosed with cancer in October last year.
Ms Pearson, who said she previously been a "secret tap dancer", decided while she was ill to take the plunge and find funding for the project.
After undergoing an operation to remove a large part of her bowel and six months of chemotherapy Ms Pearson applied for funding through the Arts Council to make her tap dream a reality.
"I was left paralysed after surgery and when you can't walk and you lose your independence, suddenly you realise how fantastic dance is," she said.
"I just wanted to get back into it."
Suited and booted
Ms Pearson, who studied dance in London, New York and Toronto, said her company will "bring the dance back to life, breaking the stereotype".
Because while tap dancing became popular in the 20th Century, thanks to classic performances by glamorous suited and booted stars including Fred Astaire and Gene Kelly, Ms Pearson said not everyone in the dance world was a fan.
She said: "I always loved tap dancing but I kept it a secret because in the contemporary dance world it's always been frowned upon and a bit of a joke.
"I never told anyone that I was doing secret tap classes.
"I got sick and suddenly I realised what was important in life and I decided I wasn't bothered what people thought about tap dancing."
In June this year Ms Pearson was told that she had been awarded funding for her idea.
After holding auditions in her home town a small cast of professional dancers from across the country were chosen.
She scoured the internet to find a dance choreographer who could lead the project and "by chance" emailed Australian tap dancer Christopher Horsey to see if he was interested.
Adam, who has choreographed pieces for the world-renowned tap dancer Adam Garcia, left her "surprised and flabbergasted" when he replied and wanted to be involved in the project.
He flew to UK this week to begin five weeks of rehearsals in various dance studios in Yorkshire ahead of the premiere of Sounds Extraordinary at the Barnsley Civic in September.
'Passion for dance'
The theatre in Barnsley, which has co-commissioned the show, is seen as an important venue for the woman who was born in the town and gave her first performance on its stage as a two-year-old.
"It comes back to being from Barnsley, it just means more to me for my first show to be at The Civic. It's really special."
Ian Morley, head of programming at The Civic, said he was "inspired by Katie's vision of inspiring a new generation of audiences" and "passion for dance".
The Northern Tap Company's first performance has also been co-commissioned and seen money invested by another South Yorkshire theatre, Doncaster Hothouse, which will host a performance later this year.
As part of the company's future Ms Pearson hopes to reach further out to South Yorkshire audiences by holding workshops and working with schools and groups.
But more than three months since she received positive news of her dance dream, the news of her health is very different.
"I had a CT scan and some spots have showed up on my liver so I'm going to have an MRI scan to see exactly what it is. So I'm in the midst of it.
"The tap company is pulling me through it. It's keeping me above water," she said.
"I'm desperate to do it. Every little step when something good happens with it, it just gives me an extra boost. It can be anything little and it feels fantastic."
The Northern Tap Company will perform at The Civic Theatre in Barnsley on 24 September.