Sheffield's Winter Garden opening hours cut by council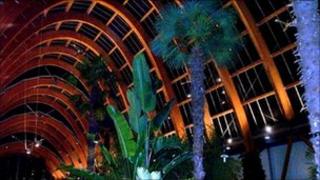 The opening hours of one of Sheffield's main visitor attractions are being reduced.
The Winter Garden in the heart of the city centre will now close three hours earlier on weekday evenings.
From next Monday, 29 August, it will be open from 08:00 to 20:00 from Monday to Saturday.
Councillor Helen Mirfin-Boukouris said the changes were being made after feedback and a review of footfall at the Winter Garden.
Ms Mirfin-Boukouris, Cabinet Member for Business, Jobs and Growth, said: "At present there is no security presence in the Peace Gardens after 7.30pm.
"We cannot justify having staff in the Winter Garden when it is not used and we've looked carefully at how it has been used. We've got to look carefully at every penny and this seems a sensible way forward."
In 2009 the council extended the weekday opening times by four hours, making the closing time 23:00.
The Winter Garden opened to the public in December 2002. The glass and timber-framed building is one of the largest temperate glasshouses to be built in the UK, is home to more than 2,000 tropical plants and attracts more than two million visitors a year.