March in Sheffield to highlight abuse of Goths and Emos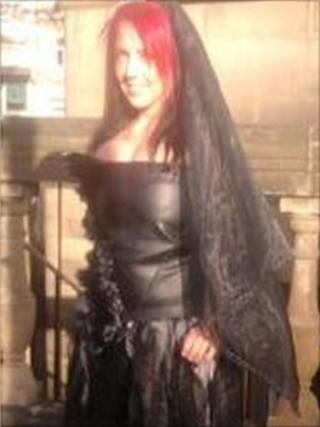 A march has been organised in Sheffield in response to attacks against Goths and Emos.
The Alternative March has been organised by mother-of-two Alicia Philpotts, who describes herself as "a member of the sub-culture".
She aims to highlight the abuse people experience "for simply having a different look to what is considered the norm".
She said Saturday's event would bring an "eclectic mix" of people together.
The march will take place on Devonshire Green in the city centre from midday.
Mrs Philpotts said: "It's a controversial subject.
"When people are abused or attacked in the street for simply having a different look to what is considered the norm, someone needs to wave the white flag and say, 'Stop'.
"We just want to say 'Hello, were just like you, please stop, this is getting out of hand'."
The march comes after friends and family of Mrs Philpotts have experienced abuse in the past.
'Regular people'
Mother-of-two Mrs Philpotts said her 14-year-old daughter Terri-Anne was bullied at school when she dyed a streak of hair red.
She also said she knew of other teenagers who had been targeted for abuse because of their appearance.
She said: "I spoke to a beautiful 13-year-old who came up to me and lifted her hood up and showed me her head.
"Kids in the school canteen had decided to set her hair on fire because she looked 'weird'."
Mrs Philpotts, who organised a march in 2008, said the previous event was so successful that the group launched a website and was now looking to encourage primary children to not judge people on their appearance.
The group will walk through the town centre, where they will meet the head deacon at Sheffield Cathedral and hold a one minute's silence.
"I'll be wearing a T-shirt that says 'I'm a mum' and hopefully people will see that we are regular people through doing that" said Mrs Phillpotts.