South Yorkshire firefighters bike trip to Ground Zero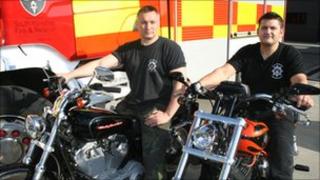 Two South Yorkshire firefighters are joining American emergency workers on a motorbike trip marking the 10th anniversary of the World Trade Center terrorist attacks.
The riders are Richard Barr, from the Maltby station, and Jason Jenkinson, from Central Sheffield station.
The bike trip from Chicago to New York takes place every year to remember those killed on 11 September 2001.
The pair are in a group of 33 firefighters from the UK taking part.
The bikers will leave the Chicago Red Sox stadium and arrive at Ground Zero, New York on Sunday for a special memorial service.
Emotional occasion
Mr Barr said: "By the time we reach New York there'll be thousands of us biking en masse into New York City.
"It's a real privilege to be part of such a huge event, and I'm sure the memorial service itself will be a very emotional occasion, especially for the New York firefighters we'll be biking with."
The thousands of lives lost in the terrorist attacks included 343 firefighters and 60 police officers.
The pair's route will take them from Chicago to Gettysburg via the Flight 93 Memorial in Stonycreek Township, Pennsylvania, then onto Washington DC, New Jersey and through the Brooklyn Tunnel to Ground Zero.
The ride has cost Mr Barr and Mr Jenkinson £3,500 each.
Memorial services will begin at Ground Zero on Sunday at 08:46 local time (13:46 BST) when the first tower was struck.