Vigil held in Sheffield against NHS reform plans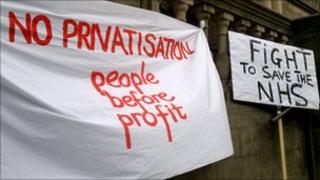 A vigil has been held in Sheffield in reaction to government efficiency savings being proposed for the NHS.
About 40 members of the public gathered outside the city's Town Hall on Tuesday evening.
The vigil followed the announcement by the coalition government to reform the NHS system.
Andrew Turner, a founding member of Sheffield Save Our NHS, said the plans were "the beginning of the end for the NHS as we know it."
The government's Health Bill is due to be debated by MPs in Parliament.
The reform includes the end of the Primary Care Trusts, which currently decide where NHS money is spent, and patients being offered a choice between NHS and private care.
Mr Turner said: "In the next four to five years, sections of the NHS will be privatised.
"It is everybody's human right to have health support when they're ill and that is what we pay our taxes for.
"What the bill does is remove the principles of the NHS free for the person who receives it."
Earlier this year, Sheffield Save Our NHS supported a public campaign to keep two care homes in the city open, Birch Avenue and Woodland View, and the group believes public support is key to its success.
The vigil followed a march which took place through the city on Sunday.