South Yorkshire Police announces end of helicopter service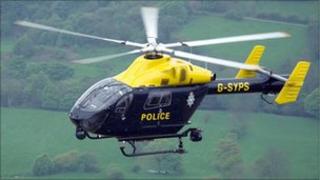 South Yorkshire Police has announced it will stop running its force helicopter in January 2013 when it joins a single national police helicopter service.
The National Police Air Service will see 23 aircraft operate from 20 bases.
When South Yorkshire Police grounds its helicopter, the nearest police helicopters will be based in West Yorkshire, Humberside and Derbyshire.
South Yorkshire Police Federation chairman Neil Bowles said the decision had been met with "disappointment".
Under the plans, the county will still have a 24-hour service with a response time of 20 minutes.
The national service will launch in April 2012, with South Yorkshire becoming part of it 10 months later.
South Yorkshire Police is set to meet with the team behind the national service to discuss how local staffing will be used under the new structure.
Members of the South Yorkshire Police Authority will discuss the proposal at a meeting, with a recommendation before them to redeploy 17 current staff members to the new service.
South Yorkshire Police said the removal of the helicopter service would save it £668,000 per year.
Mr Bowles said the current response time from the air support unit was 10 minutes.
"There will be less prisoners caught with the use of the helicopter," he said.
"It's a shame. Sheffield is the fourth or fifth largest city in England and Wales and yet we're not going to be served. It's a disappointment."
South Yorkshire's 'SY99' helicopter was launched in December 2003 at a cost of £4m.