KFC appeals against planning refusal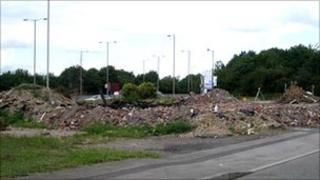 Fast food chain KFC is appealing against a decision to turn down plans for a new restaurant in Rotherham.
KFC had applied to build an outlet in Canklow but was rejected by Rotherham Council in July.
The application was met with strong opposition by local residents and a nearby school.
KFC said in a statement that the restaurant would be a "positive addition to any community".
Canklow Woods Primary School started a petition earlier this year to stop KFC opening a restaurant 40m (131ft) from the main entrance of the school.
'Wrong location'
When the planning application went before Rotherham Council's planning board it was rejected based on concerns around traffic increase, noise and disturbance.
Labour councillor Mahroof Hussain, who had campaigned against the plans, said the decision to appeal against the rejection "wasn't a surprise".
"They need to make a social responsible decision not just a commercial decision," he said. "It's in the wrong location."
A spokesperson for the proposed KFC franchisee said: "Our original plans were rejected on grounds of noise, and we believe that we have addressed those concerns within our appeal.
"We believe that KFC can be a positive addition to any community, and a new restaurant in Rotherham would create around 30 jobs."
KFC said it expected to receive a decision on the appeal before January 2012.