Paratrooper Ben Parkinson's family to fight payout cut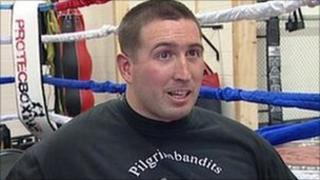 The family of a soldier who suffered devastating injuries in Afghanistan have vowed to fight a reduction in his compensation.
Lance Bombardier Ben Parkinson, 27, from Doncaster, South Yorkshire, lost both legs and suffered head injuries in a roadside bomb explosion in 2006.
The Ministry of Defence (MoD) has told the family he will get just over half the £1,000,0078 expected payout.
The ministry said it did not comment on individual cases.
The decision is a fresh blow for the family after an earlier campaign to secure more compensation had been successful.
Mr Parkinson was initially offered £150,000 for his injuries - but after a review of his case, the MoD said the pay out could increase to more than £1m.
However, they have since been told new rules now meant he would only receive £570,000.
Ben Parkinson's mother, Diane Dernie, said the family were extremely angry about the decision.
They are also dismayed at the news he is to be medically discharged from the forces, meaning he will no longer have access to the MoD-funded rehabilitation process.
Ms Dernie also said the decisions contradicted what they had been told by Prime Minister David Cameron.
Maximum amount
His mother said: "We got a letter [from the MoD] saying Ben's compensation had been assessed at £1,000,0078, but he doesn't receive that, he receives £570,000 because that's the maximum that any soldier can receive."
Ms Dernie said many soldiers benefited from the new rules, but it "penalised those with the very worst injuries".
"Then we got a letter saying his med board [medical board] had recommended that he be medically discharged from the army.
"The big problem we've got is that Ben's still in full rehab, which is funded by the MoD, obviously the NHS can't cope with a rehab like Ben's.
"If he is discharged from the army he loses that rehab as well.
"We are going to appeal against that decision - we had assurances from [prime minister] David Cameron that Ben's rehab would be maintained.
"It seems very unfair to take away the financial means for him to pay for his own rehab, but then to take the funded rehab away as well."
'Extremely angry'
Ms Dernie said a letter from Mr Cameron sent six months ago included reference to Ben's rehab "for as long as it takes".
"Unfortunately less than six months later someone has decided it is time Ben was returned to the NHS.
"It makes me extremely angry because Ben has the full support of the military community and support of the regiment."
A Ministry of Defence spokesperson said: "We do not comment on personal circumstances of personnel or their families.
"However, we are committed to ensuring that those who have been wounded, injured or become sick whilst serving receive the care and support that they need during recovery and beyond.
"We are working closely with other government departments and the charitable sector to achieve this."