Johnston Press Yorkshire strike journalists back to work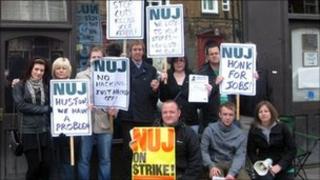 Journalists working for five newspapers in Yorkshire who have been on indefinite strike for eight weeks are going back to work on Thursday.
Members of the National Union of Journalists (NUJ) went on strike over proposed cuts by Johnston Press.
NUJ member Martin Herron said: "It is in everyone's interest - the readers', the company's and our own - to return".
Johnston Press's managing director John Bills said he was "pleased that the NUJ Chapel has decided to return to work".
The Johnston Press newspapers which were affected by the strike were the Doncaster Free Press, South Yorkshire Times, Epworth Bells, Selby Times and Goole Courier.
'Very much united'
Staff from the newspapers went on strike on 15 July after 90% of their NUJ members voted for the action.
Mr Heron said: "The chapel is still very much united and we hope we will be able to find common ground with the company which will lead to an improvement in working conditions and in the quality of the newspapers we produce."
Mr Bills said in a statement: "I am pleased that the NUJ Chapel has decided to return to work, enabling us to continue the consultation and communication process.
"In the meantime, those at risk of redundancy have been informed of the outcome and the reorganisation is now complete."
The NUJ chapel has not ruled out the possibility of further industrial action.