Doncaster Councillor accuses his council of neglect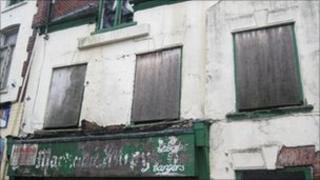 Doncaster council has been accused by a councillor of neglecting prominent buildings in a historic market town.
Councillor Martin Williams said some of Thorne's oldest buildings, including the Grade II listed Thorne Hall and Old Vicarage, were in a state of disrepair.
Mr Williams, who represents Thorne and Moorends, said the council had failed in its duty to conserve the properties.
He wants a judicial review of the alleged failings. The council plans to ask property owners to make repairs.
Mr Williams said he had consulted a barrister about applying for the review at the High Court by this November.
'Falling down'
He said he had been "left with no other option" than to take legal action.
"The council have a duty to preserve the buildings and the conservation area," said Mr Williams.
"The church is falling down. Thorne Hall, which is a Grade II listed building owned by Doncaster Council, has been closed for about 12 years.
"Buildings in the market place have been closed for 15 years."
The councillor said he had been speaking to Doncaster Council about the issue since 1998 but had been "fobbed off" with promises.
Last year the South Yorkshire Buildings Preservation Trust warned that the town's historic buildings were under threat due to a funding crisis.
Peter Dale, director of regeneration and environment at Doncaster Council, said: "Many of the properties in Thorne have been granted planning permissions for alternative uses, however, poor market conditions have meant that developers are holding back."
He said the council was working with property developers and would be writing to owners to request that repairs to buildings take place.
Thorne Hall, which is currently owned by Doncaster Council, will go on sale later this year.