Lindsey Scholes Royston fire murder: New lines of inquiry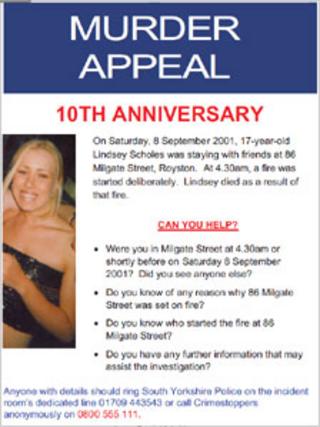 An appeal over the 2001 murder of a 17-year-old girl has provided new lines of inquiry, South Yorkshire Police have said.
Lindsey Scholes died of brain damage after suffering burns and smoke inhalation in a house fire in Royston, near Barnsley, in September 2001.
Officers handed out flyers, talked to people about the case and answered calls in the incident room.
South Yorkshire Police said the new information was "very encouraging".
'Horrific attack'
Det Supt James Abdy said: "So far we have received in excess of 15 pieces of information from the anniversary appeal which have generated new lines of investigation.
"This is very encouraging and reiterates our belief that the answer to this case rests in or around the local community of Royston from 2001.
"In particular, I would like to appeal to anyone who is protecting the person responsible for this horrific attack to come forward and talk to us.
"You may not have wished to speak out in 2001, but 10 years on this is your opportunity to tell us what you know.
"I would also like to thank Lindsey's family for their support with this anniversary campaign and our thoughts are with them at this difficult time."
Lindsey was staying with two friends after a party at the house in Milgate Street, when the fire was started at the door of the property in the early hours of 8 September 2001.
Her friends jumped from an upstairs window but Lindsey was too scared to follow them.
She was rescued by firefighters and taken to hospital where she died on 10 September 2001.