Two mothers from Sheffield raise money for war memorial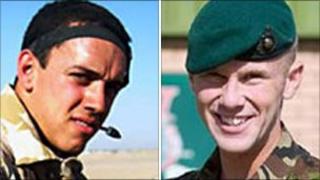 Two mothers from Sheffield have raised £35,000 to create a war memorial for their sons.
Senior Aircraftsman Christopher Bridge and L/Cpl Steven Jamie Fellows were killed in two separate attacks while they were serving in Afghanistan.
Nicolette Williams, mother of SAC Bridge, has been fundraising since 2010 to get the money needed for the Sheffield memorial.
She said raising the money had given her a purpose in life.
SAC Bridge, 20, was serving with C Flight, 51 Squadron RAF Regiment when he was killed in Kandahar province in August 2007 and L/Cpl Fellows, 26, a Royal Marine, was killed in December 2008 whilst on routine patrol in Helmand province.
Compass memorial
Ms Williams and L/Cpl Fellows' mother, Ann Fellows, met over their mutual grief and decided to raise the money for the memorial through sponsored charity events and donations over 20 months.
Ms Williams told the BBC what happened when she discovered the grand total had been reached: "I said 'Oh my god', I was sat there with my mouth open with tears quietly falling down my face.
"Its been very hard to cope with grief. It's been my drive to get a memorial for the soldiers who have lost their lives."
Although it is not yet known when the memorial will be unveiled, the design will focus around a compass with different elements represented within, including a dove and teardrop, with a plaque describing why they were chosen.
'Purpose in life'
Ms Williams said fundraising had helped her through her grief: "That is what has kept me alive.
"If not, I seriously think that I would've joined my son because I would've had no purpose in life."
Ms Williams said that despite having raised the money needed for the memorial she would continue to fundraise for the Help The Heroes charity.
"The injured soldiers are just as important as the soldiers who have given their lives," she said.
"I shall be continuing and that will be my focus in life."
The memorial, which will be placed in the Shiregreen Cemetery, will also pay tribute to World War II personnel.