Opening of amphitheatre in Sheffield's South Street Park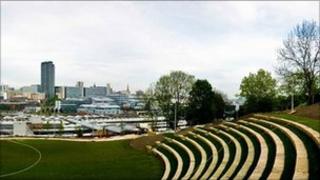 The opening of an amphitheatre in Sheffield to host public events will mark the first phase of a vast regeneration project.
The amphitheatre is part of the new £800,000 South Street Park, which lies behind the city's railway station.
The park's opening is part of a wider regeneration scheme, which will see Sheaf Valley Park stretch from Victoria Quays to Norfolk Park.
The park also has an arboretum, or living tree collection.
Musicians and performers will mark the day's events with a parade from the city centre through Sheffield railway station and on to a formal opening at the amphitheatre.
Councillor Leigh Bramall, cabinet member for environment and transport at Sheffield City Council, said: "The opening of the new park is great news for our many city centre residents, students and workers."
Ms Bramall said the new park also "highlighted the importance of keeping free public access over the station bridge".
East Midlands Trains had planned on installing ticket barriers at the railway station which would have prevented non-passengers from using the station footbridge for access.