Letter sparks new Sheffield railway barrier fears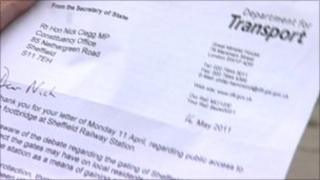 A fight against ticket barriers at Sheffield railway station has restarted after campaigners saw evidence that the government was in favour of the idea.
East Midlands Trains previously said it wanted barriers to stop ticket fraud.
Residents say the barriers would block a vital throughfare into the city and last year the Labour government said the plans had been put on hold.
Campaigners say they have a letter by the transport secretary which shows he is keen to see the barriers installed.
Geraldine Roberts, from the Residents Against Station Closure group, said: "In that letter Philip Hammond said it was his view that the only way to protect the station in his opinion was via automatic ticket barriers and he personally was determined to see them installed."
The dispute centres on the station's central footbridge which takes rail passengers to their platforms, but also provides a pedestrian link between the city centre and the Park Hill and Norfolk Park areas.
Mrs Roberts said: "We have a perfectly good bridge which was built with public money which is well used.
"We certainly don't intend to lose that unless and until there was a serious viable alternative."
In November 2009, Sheffield City Council rejected the plans on the grounds that the barriers would affect the character of the listed building.
Then in April 2010 the former transport secretary Lord Adonis said barriers would not be installed before a new footbridge was built.
In a statement, the current Transport Minister Norman Baker said ticketless travel at Sheffield cost more than £2m each year.
"Clearly this is unacceptable," he said. "The department is keen to resolve this issue in a pragmatic way that also addresses the concerns of local residents."