Last-ditch attempt to halt Mexborough Market rent rise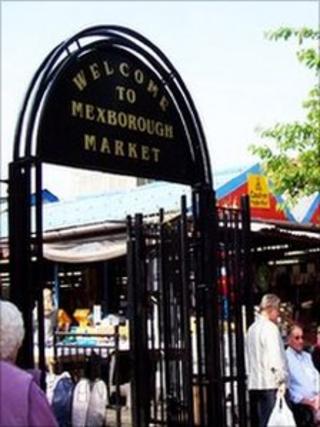 Stallholders at a South Yorkshire market have started legal action in a bid to stop rents being quadrupled.
The minimum rent at Mexborough Market will rise from £15.72 to £36.68 a week at the end of the month and eventually to £78.60 a week by 2014.
Doncaster Council said the rents had not increased in more than 15 years and the extra money would fund investment which would attract more shoppers.
Some traders have appointed solicitors and surveyors to look into the matter.
Peter Davies, the mayor of Doncaster, said: "[It's been] 15 years since a rent increase, I don't know what the council have been playing at in the past.
"All we're doing is putting it up to a reasonable rate.
"On the High Street the shops there are paying colossal rents and colossal amounts of rates and are fighting a battle against market traders which they can't possibly win.
"[There are] far too many empty shops in Mexborough, we need a level playing field."
Mr Davies said he was planning to announce a programme of investment in the market, but said he could not give further details yet.
The market has 40 stalls in a heated and lit building. Each stall carries a rental price based on its size and position.
Phil Toon, who runs a pet food and home brew supplies business over two stalls, said his rent would rise from £31.44 to £157.20 a week over the next three years.
He said it was unfair of Mr Davies to compare market stall rents to those of high street shops, which are much larger.
He said: "We have got a legal action ongoing but the council doesn't want to talk to our people to negotiate. We have been told from day one that there is no negotiation, that's it.
"I think the majority of people will probably pull out if this goes ahead."