Warning as poodle killed in Wombwell by dogs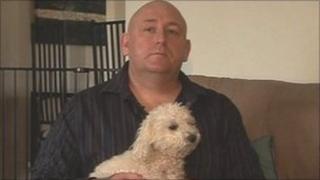 A man from South Yorkshire has urged all dog owners to keep their pets on a lead after one of his dogs was killed in an attack.
Jay Westwood-Bowman had been walking his two poodles in Wombwell, near Barnsley, on Saturday when seven dogs approached them and attacked them.
One of the poodles, Zack, had to be put down after suffering broken ribs and a punctured lung.
He said he believed about two of the dogs had been greyhounds.
His other dog, Max, survived the attack.
Mr Westwood-Bowman, from Wombwell, said he did not "have a chance" as he watched Max "ripped apart".
He added: "I'm lost for words with everything that has happened."
Mr Westwood-Bowman has now called for dog owners to ensure their pets are kept on a lead when they were walked.