Wombwell Baths sold at auction in Sheffield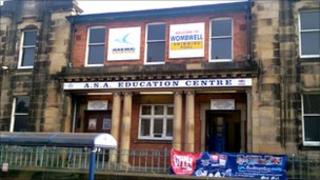 A former swimming baths in South Yorkshire has sold at auction to an undisclosed buyer for £81,000.
Wombwell Baths is one of three leisure facilities that have closed as Barnsley Council tries to save £46m from its budget over four years.
The building, one of 84 lots up for auction on Tuesday, was sold for above the guide price.
Auctioneer Adrian Little, of Mark Jenkinson & Son, said: "Redevelopment is the sensible option."
The auctioneers believe that the site could now be turned into flats and townhouses, and said there had been a number of bidders for the property.
Despite a campaign to save the building, Wombwell Baths closed in May.
Labour-run Barnsley Council also closed Penistone and Athersley leisure centres, helping to save £1.5m over five years.