Hillsborough chief constable Peter Wright dies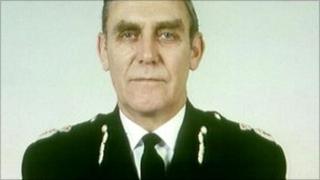 The chief constable who was in charge of South Yorkshire Police at the time of the Hillsborough disaster and the miners' strike has died aged 82.
Peter Wright, who died in hospital in York on Saturday, led the South Yorkshire force from 1983 until 1990.
Ninety-six Liverpool football fans died as a result of a crush at Hillsborough stadium in Sheffield on 15 April 1989.
Lord Justice Taylor's official inquiry said the main cause of the overcrowding was a failure of police control.
His report published in 1990 criticised senior police officers on duty at the match and recommended the introduction of all-seater stadiums.
'Darkest hours'
Mr Wright was also head of the force when the county saw clashes between picketing miners and police in 1984 and 1985.
The current chief constable Meredydd Hughes said: "Peter Wright led the force through its darkest hours, always demonstrating outstanding personal integrity and commitment.
"He recognised the failures of the force at the Hillsborough disaster and apologised for them, offering his resignation.
"His long and very successful career as a professional and dedicated officer was inevitably overshadowed by the events of that day, but he was resolute in responding to the various inquiries, and was always fully supportive of those colleagues more closely involved.
"The force remembers him with respect and affection, and I offer our sympathy to his family and friends."
Margaret Aspinall, chairman of the Hillsborough Families' Support Group, said: "Our sympathies obviously go out to Peter Wright's family and friends."