Fertility clinic hold art exhibition to celebrate lives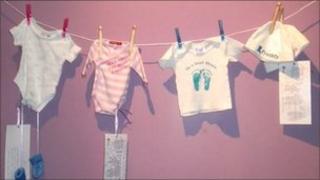 A fertility clinic in Sheffield is appealing for donations for an art exhibition.
Life's Line will be a collection of donated clothes, photographs and keepsakes by parents who have received fertility treatment to conceive.
The CARE Fertility clinic in Glen Road was one of the UK's first clinics dedicated to helping couples have babies when it opened 25 years ago.
The exhibition will go on display next month in the city's Millennium Gallery.
The Sheffield clinic which has helped couples produce over 3,300 babies since it opened in 1986 wants people to donate items to represent each life created.
The donated items will be placed on household items including ironing boards, washing baskets and washing lines so it "looks like wash day".
'Celebration of innovation'
As part of the exhibition people will be asked to share a personal message, about their journey and feelings about fertility treatment.
So far various items including a child's sunhat, photographs and driving licence have been donated for the exhibition.
Wanda Georgiades, who is organising the exhibition, said it was a "celebration of innovation and the amazing work that happens in the city".
"Families are completely transformed. Lives are changed because people want to become of that in-exclusive club of becoming a mum and dad."
The three-day exhibition will begin on 14 October.